TELECOM SERVICE
16:38:04 20/03/2023
TELECOM SERVICE
•Private leased circuit service (DBLC & IPLC): VTC Digicom provides a variety of data transmission services. Private leased Circuit services (DPLC&IPLC): the rental of physical transmission circuit to connect and transfer information from point-to-point in the customer's own internal network and telecommunications network. Vitual private network services MPLS VPN: Vitual private through the Internet using MPLS technology, the latest technology is now widely used to improve network performance and increase security, supports QoS features for different types of data.
•Private internet leased line and data transmis - sion service: Private Internet leased line (ILL): provides direct Internet connection with private international connections,which are deployed on fiber optic infrastructure. Large data transitional service (IP transit): IP Transit service provides large data transmission system from the customers infrastructure in the country though the international ports or international Internet connectionInternet.
•FTTH service: FTTH provides high speed internet service over fiber to the home for consumers. With high bandwidth internet connection infrastructure, VTC has developed FTTH services focusing mainly in areas such as: Bac Ninh, Binh Duong, Vung Tau...
•Fix voice & vas: One of the leading enterprises in developing VoIP services in Vietnam
oLandline voice service 445: provides landline services to organizations such as banks, agencies, enterprises.
oValue-added service: provides VAS services on 1900/109x prefix
oEnterprise PBX service: provides VoIP virtual PBX on VTC Cloud (CaaS – Com- munication as a Service, Cloud based PBX) that Enterprise can connect quikly and efficiently without investment telephone cable infrastructure.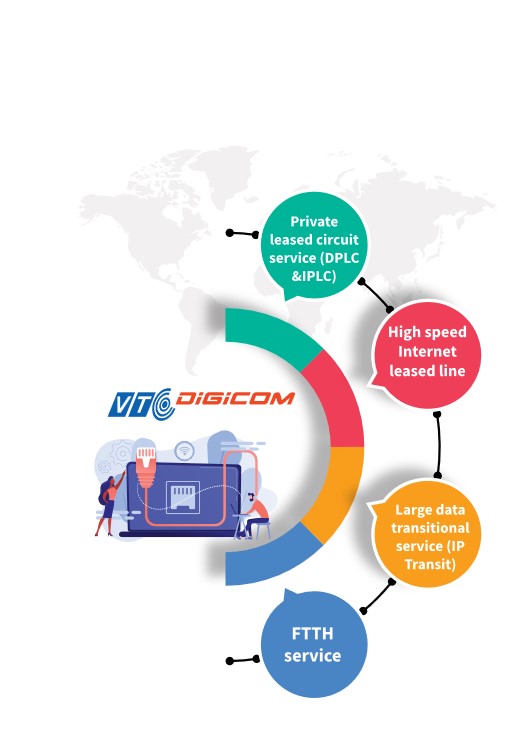 ​